I am a skin care junky! I'm always trying new products and experimenting with how to layer them. This current skin care rotation has been my staple for the last 4 months. These are all products, with the exception of one (more about that later), that I have purchased more than once so I know they're worthy of sharing with you. Drum roll…. Here's what I'm using and loving right now: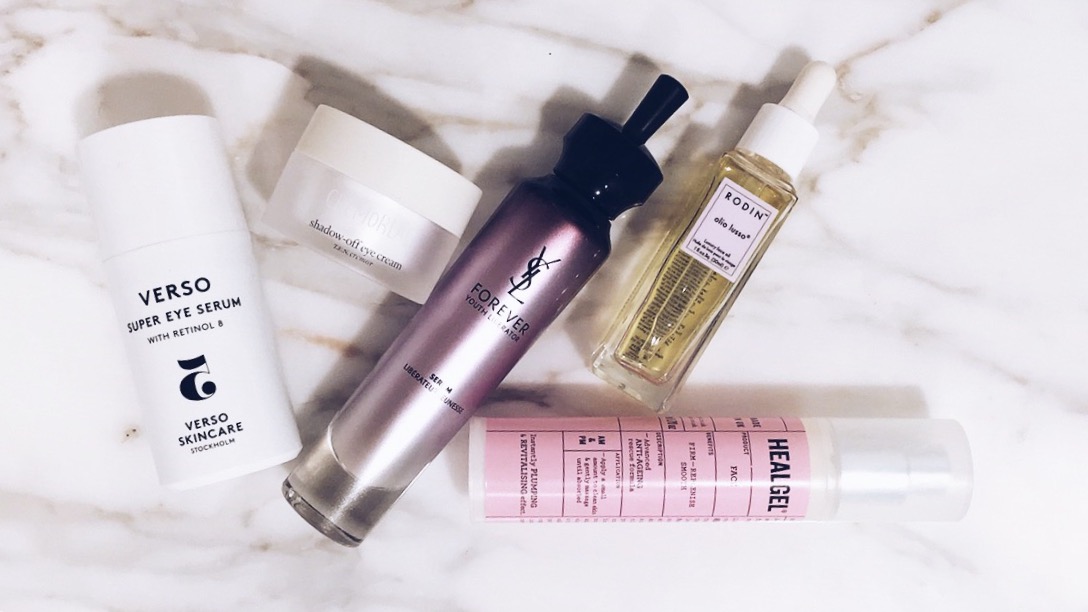 I'll talk you through each of these products in the order I use them and what I like about them.
Verso Super Eye Serum: After washing and patting my face dry, I dab a half pump of this around my eye area. I find it has a slight tingling effect which I like, must mean it's doing something, right? The dark circle struggle is real with me and while I know genetics play a huge part in that I also think/hope moisturizer can help. I've seen some improvement with shadow under the eye area while using this. It's serum so I never use just this. More about serums in the next section.
YSL Forever Youth Liberator Serum: Full disclaimer- this was given to me and I've enjoyed using it but I'm not jumping to purchase it again straight away. This isn't a criticism of the product, I just feel I have to try something new in my quest for the perfect serum… possibly the Tata Harper rejuvenation serum. I'll keep you posted. Anyway… I apply the YSL serum next. I use a good squeeze of the dropper and lightly work it into my face using my finger tips. Serums are supposed to deliver potent ingredients directly onto the skin and are designed to be worn under your moisturizer. Serums can be full of moisturizing ingredients but they don't work like a moisturizer in the traditional sense. (There are loads of articles out there that explain this better than I do and they use scientific words and everything). This serum has a nice calming effect on the skin and soaks in super quickly.
Cremorlab Shadow Off Eye Cream: Cremorlab is a Korean skincare brand that gets a lot of online love.  I really like their eye cream. I don't know how effective it would be on it's own because I always use it with my eye serum but they seem to work well together. The Cremorlab cream is very rich and creamy so a little of it goes a long way. I dab it over the Verso serum and it works to lock the moisture in. I find that this is a great base for my concealer. Some eye creams are too oily and give you that annoying shiny under eye look, this does not, just nice moist under eyes.
HealGel Face: I love this moisturizer. Like, really really love. I discovered it back in November when I flew home to London. The long haul flight and cold London air really stressed my skin out and I had dry flaky patches that I just could not seem to shake. Healgel Face was recommended to me in a British department store and now I'm obsessed. My skin looked better immdiatey after using and within a couple of days the dry flaky patches were gone.  It's smoothing, refreshing, plumping, hydrating… all the things you want your moisturizer to be.
Rodin Face Oil: I use this oil on top of everything else whenever I feel like my skin could use an extra boost. I pat the tiniest amount all over my face and neck . Oils should be used on top of your moisturizer, they have bigger particles and lock everything in. I Usually (but not always) use this at night. It's worth noting that I'm not currently using any 'night time' specific products, everything I'm using right now I use in the morning and evening. Honestly, I'm not really convinced that there's anything different about 'night time' specific products other than that they have the word 'night' written on them. This Rodin face oil is a cult product for a reason. It's really gorgeous- my skin feels great after using it and stays hydrated (but not oily) all day or night.  I can't even lie- this shit is pricey and I winced a little the first time I bought it but it lasted a long old time so I felt good about the purchase.